Tracking your weight and body composition with a smart scale is an easy and effective way to reach or maintain your health and fitness goals. And though I've tested many smart scales, such as the less pricey Eufy P2 Pro, the one I use at home is the Withings Body Cardio scale.
What sets it apart? Its intuitive Health Mate app is packed with informative information and boasts integration with other Withings health devices, such as blood pressure monitors and thermometers. And because it measures your heart rate each time you weigh yourself, you can access vital information whenever you need it. So, if you're looking for an overall snapshot of your health that you can track and share with family members or your doctor, this is as simple as it gets.
An attractive, advanced smart scale that measures weight, body composition and heart health, the Withings Body Cardio also simply delivers that data to help you better use and understand it on a daily basis. At $149 it's more expensive than similar models that offer body analysis — including our current best smart scale pick, the Wyze Smart Scale — but its comprehensive features and elegant looks make it a worthwhile splurge.
This super-functional smart scale is a step-up splurge from our best smart scale pick, the $34 Wyze Smart Scale. Not only does it measure everything from your weight and body composition to heart health, but the simple companion app lets you sort through all this data to better use in everyday life — and even share with your doctor via PDF. It's a perfect pick for anyone who is looking for a full daily workup of their overall health combined with a sleek, good-looking design.
Once downloaded and set up to partner with your Withings Body Cardio scale, the Health Mate app presents your data in a few ways, either in graph form or as a measurement table, making it very easy to find what you're looking for. While it doesn't measure skeletal muscle mass and subcutaneous fat like the Eufy P2 Pro, I didn't need those measurements daily and could easily wait to get this more complex information from my doctor's office. It does, however, measure weight, body fat, body mass index (BMI), body water percentage, muscle mass, bone mass, heart rate and vascular age.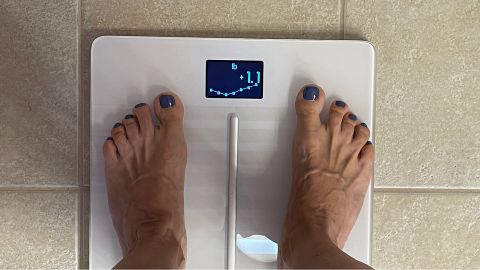 Andrea Smith/CNN Underscored
These are the metrics I like to know every day, or each time I get on the scale, because it shows me how my fitness journey and diet is consistently affecting my weight as well as my muscle mass and BMI. If I've spent more time working out for a few days and my weight goes up, seeing that my muscle mass and bone mass has gone up as well tells me I'm on the right track. It also reassures me that it has little to do with that extra cookie I had after dinner.
I also like that the scale not only displays my weight but tells me if I'm up or down from the previous day and by how much. Understandably, this daily feature may not be for everyone, but I find it keeps me motivated. You can also personalize which measurements you want to see on the easy-to-read display. At 2.4 inches by 1.6 inches, it's smaller than the screen on the Eufy, but it clearly shows all the data you want to see. The Eufy scale forces you to connect to Bluetooth to sync, then open the app to view this data.
The Withings Health Mate app is where I see my overall trends, measurements consisting of my weight, fat percentage, heart rate, daily steps and vascular age. Tapping on any of those measurements gives me the info as either a graphical representation or a measurement table and can provide a weekly, monthly or even longer representation of the data.
Like other scales, it provides an explanation of each measurement and quite literally how you measure up. For instance, my vascular age is spot on. Clicking on it explains that it's the condition of my arteries based on how old I am, which is thought to be a predictor of how likely you are to develop cardiovascular disease.
Another fun feature? If you need some friendly competition to help keep you motivated, you can add friends to your leaderboard in the app. Those friends don't need to own a Withings scale; they just need the Health Mate app on their smartphone.
Like other smart scales, it measures body composition using bioelectrical impedance analysis, or BIA, which sends a painless low-level electrical current through the body. The process is safe, and you don't feel a thing, but it's not recommended for pregnant women or people with pacemakers.
Rechargeable battery and Wi-Fi connectivity

The scale is easy to set up, though you should fully charge it before trying. One of the nicer features of this scale is that it has a Micro USB rechargeable battery, which should last about a year. Many of the others we tested use regular batteries that need to be replaced. In addition, it syncs data over both Wi-Fi and Bluetooth so you don't need to have your phone nearby in order to record your weight in the app. Wi-Fi also lets the scale display the weather, so if your phone is synced to the app, you can also see that first thing in the morning.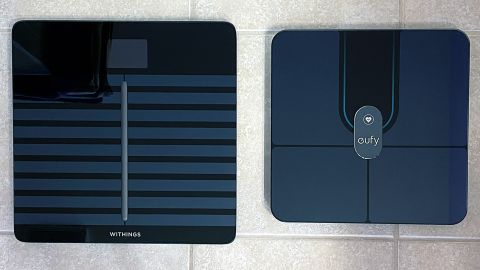 Andrea Smith/CNN Underscored
The scale is slim and attractive, and I don't mind keeping it on my bathroom floor, though it's slim enough to slide under my clothes hamper if I want to hide it. It's a bit heavier than some other scales (it weighs 5.4 pounds), but I find it to be sturdy and stable when I step on it, and I really appreciate the larger surface area, about an inch and a half longer and wider than the Eufy P2 Pro. It comes in black and white and has a striped design on top of the tempered glass top, giving it a somewhat elegant look.
In addition to being simple to use and read, the Health Mate app is also one of the most versatile of all the smart scale apps, integrating with a myriad of third-party apps. You can sync data with fitness apps like Fitbit, Apple Health, Google Fit, Map My Run and others as well as food-logging apps like WW and Noom.
At my home, we use the Withings Smart temporal thermometer and BPM Connect smart blood pressure monitor, both of which also sync with the Health Mate app. This allows me to manage a health data ecosystem that's all tracked in the same app and can be easily shared with a medical professional by exporting a PDF.
I also appreciated the privacy Withings offers by allowing you to choose if you want to share your weight info with other family members using the scale. Most scales make this data public in the app. Withings has each separate family member download the app and register the scale to their individual profile.
The only minor quibble I have is I wish the screen were slightly larger. It shows white numbers on a black background, and though I find it easy to read, it may be difficult for some users.
The other real downside of the Withings Body Cardio is its price. At $149 it's the most expensive smart scale we looked at. If all the body analysis measurements seem like overkill for you, we recommend going with a less expensive scale like the $79.99 Eufy P2 Pro or the $29.99 Wyze Smart Scale. You'll get some of the same insights into your health and fitness for far less money.
Andrea Smith/CNN Underscored
While the Wyze Smart Scale offers similar body measurements for less, its app is not nearly as robust. The Withings Health Mate app delivers all the data in a way that makes it easy to access and understand as well as privately share with your doctor. If you use other Withings health devices to wirelessly monitor blood pressure or temperature, the Body Cardio is a step up in terms of overall health monitoring and worth the extra cost.
How the Withings Body Cardio compares

| | | | |
| --- | --- | --- | --- |
| Dimensions | 12.8 x 12.8 x 0.7 inches | 11 x 11 x 1 inches | 12 x 12 x 1 inches |
| Weight | N/A | 3.7 pounds | 4.07 pounds |
| Metrics tracked | Weight, Body Fat, Body Water Percentage, Muscle Mass, Bone Mass, Heart Rate, Bioelectrical Impedance Analysis | Weight, Body Fat, Heart Rate, BMI, Muscle Mass, Bone Mass, Water, Protein, BMR (Basal Metabolic Rate), Visceral Fat, Body Fat Mass, Lean Body Mass, Body Age, Body Type, Skeletal Muscle Mass, Subcutaneous Fat | Weight, Body Fat, Heart Rate, Lean Body Mass, BMI, Muscle Weight, Visceral Fat, Basal Metabolic Rate, Bone Mass, Metabolic Age, Protein, Body Water Percentage |
| Water resistance | N/A | IPX5 | IPX3 |
| Battery | Rechargeable via Micro USB | 4 AA batteries | 4 AAA batteries |
| Max users | 8 | Unlimited | 8 |
| Price | $150 | $79.99 | $29.99 |