ST. ALBANS — NMC's inaugural Nursing Scholarship recipients are set to graduate from the VTC Practical Nursing Program this spring: Jennifer Stafford and Jen Belanger as Registered Nurses (RN), and Stephanie Preedom as a Licensed Practical Nurse (LPN).
Fifteen nursing students from the VTC St. Albans Program will graduate June 18, with a ceremony held at the VTC Randolph Campus.
"The graduating VTC nurses in our community will help strengthen our nursing workforce and provide stability in the critical needs healthcare settings," says Heather Smith, MSN, RN, RNC-MNN, who serves as one of NMC's Clinical PN Instructors.
"Working as a patient care technician (PCT) while in nursing school has helped my skills tremendously," says Stephanie Preedom. "I was not familiar with anything nursing-related when I began the VTC program. I have learned so much working as a PCT at NMC and this helps me achieve higher grades in school."
After working in the wellness field for several years, Preedom desired a more clinical setting. "Nursing seemed like a good fit for me because it offered flexibility and is a respected profession," she says.
"I am glad to be in college as a mom. I hope my three daughters see my determination to finish my degree and my dedication to the nursing field."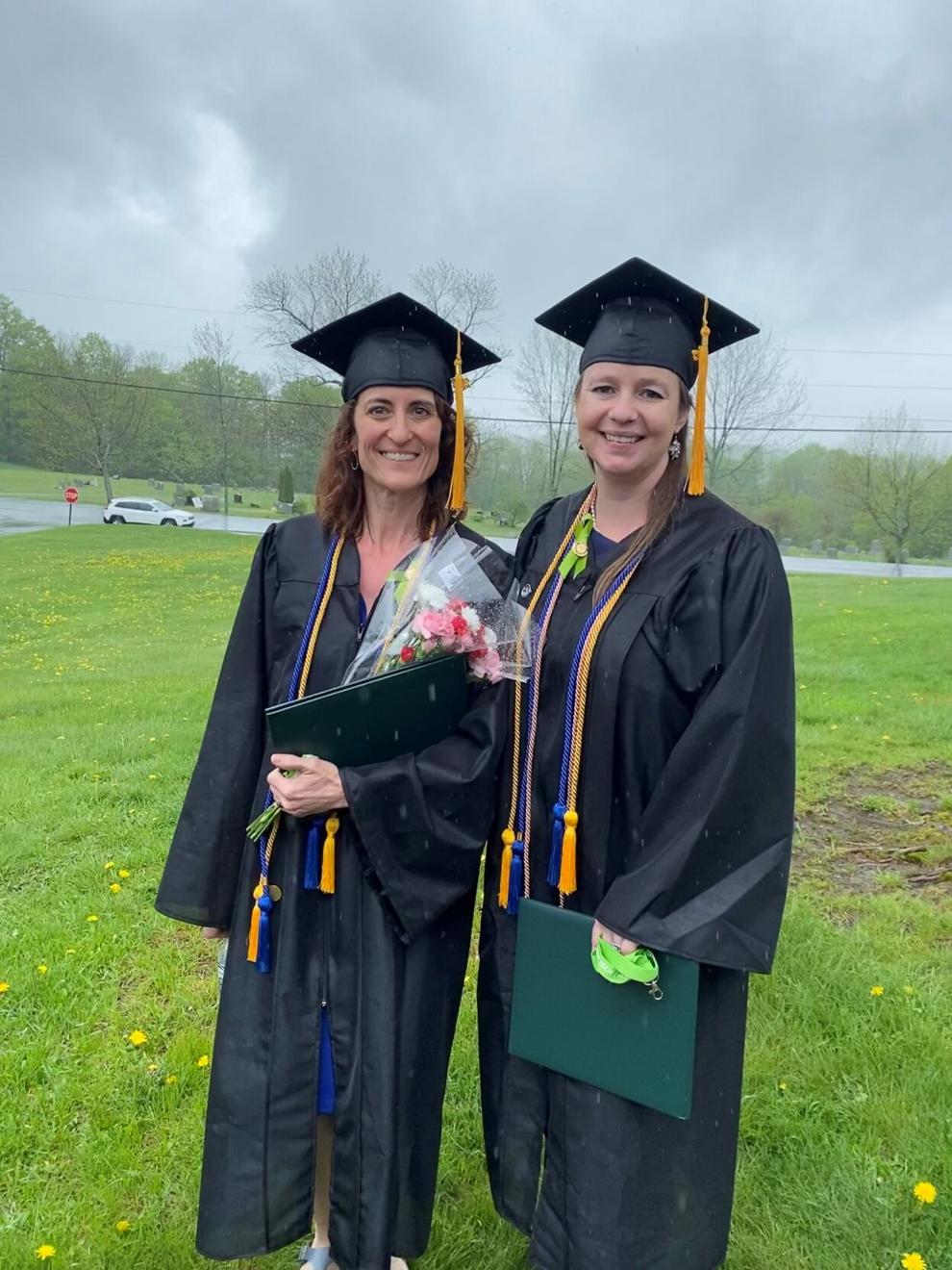 The scholarship recipients agree that with the alleviation of financial burden they are more focused on schoolwork and balancing other aspects of family life. All three are working mothers and say that their commitment to the program is intense and necessary.
"Deciding to become a nurse is a major commitment of time and money," says Jen Belanger.  "Nursing allows me to share my passion for helping others and use critical thinking to help assist with patient care."
Belanger began her healthcare career about twenty years ago as a Licensed Nursing Assistant (LNA) through Northwestern Technical Center, later earning an Allied Health Certificate from CCV. As her children grew older, she pursued healthcare education once again, beginning work at Northwestern Orthopedic and Rehabilitation Center. 
"Within the first year of employment, I took the exam and became a Certified Medical Assistant (CMA)," she says. Gaining a Registered Orthopedic Technologist (ROT) Certification, she further trained as an operating room (OR) second assistant at NMC in 2018.
"Having attended a couple semesters of Nursing School, many of the skills needed in the OR were very familiar to me," she says. "I was lucky enough to assist surgeons in Total Joint Replacements and Arthroscopic procedures. I found the operating room to be my passion.
Belanger says another step will be direct progression into the BSN program at VTC. "I now have the honor of joining the NMC OR team. I will be able to commit my life to the future of healthcare in my community and NMC."
While education and practical experience pave the way, dedication to service and personal goals is what propels these students forward.
"I believe nursing chose me," says Jennifer Stafford, LPN. "It was the next logical progression in my healthcare journey."
Stafford realized she could use her husband's GI benefits to return to school, graduating from CCV as a Certified Medical Assistant (CMA) in 2014. She then worked as an LNA in Burlington for several years before joining NMC as a CMA in Occupational Health for three years. Currently an LPN, she says the learning environment at NMC remains of great benefit.
"Thank you for this once in a lifetime opportunity to achieve my goals, for establishing this scholarship and investing in the future of nursing," Stafford says.
With the imminent fulfillment of the scholarship period, there is opportunity for incoming nursing students to apply.
"You will have to put the time in, but the hard work does pay off," says Preedom. While the application process is straightforward, she recommends ample time to request and collect letters of references.
"This nursing journey will be difficult but remember the pieces of the puzzle all come together at the end and NMC's staff are prepared to nourish our success," offers Stafford.
"Next fall, the PN enrollment numbers are growing for our area.  We are excited for this graduating class of students and looking forward to the incoming class of new PN students," says Smith, also encouraging graduate nurses to apply and interview for open staff nurse positions.
"NMC is fortunate to have the scholarship nurse residents at a time when nursing recruitment is so challenging," says Chief Nursing Officer Deanna Orfanidis, RN. "I'm so excited to reach the graduation milestone for this program."  
As the graduates commence into new roles amidst a dwindling pandemic and continued national nursing shortage, the NMC-VTC Nursing Program partnership in St Albans, Ofanidis says, is a strong testament to the ongoing Nursing recruitment efforts for Franklin and Grand Isle Counties.
"It is intimidating to enter the nursing profession when so many nurses are burnt out and leaving the profession," Preedom says.
"I knew many nurses who worked during the pandemic and who are forever changed, physically and mentally.  A world of gratitude goes out to all the nurses who served during the pandemic and for those who are still in the profession," Stafford says.
"Watching the students grow in their confidence, clinical skills, and academically is job satisfaction at its best.  I am proud of each of them and their commitment to the professional discipline of nursing," says Smith.
"I have realized that patients and their family members feel the most appreciative when a nurse shows true compassion," offers Stephanie Preedom. "This can be as simple as holding someone's hand and listening or making a family member a cup of coffee. Giving compassionate care is what nursing is all about."
A sense of renewed energy and optimism is audible in the collective voice of these nurses, their unique experiences reflecting perseverance and integrity. Their training and education came at an unprecedented time in history which should benefit our community for years to come.
"This career is not for a paycheck. You have to love taking care of others, no matter their background; listen to their stories and don't mind getting your hands and clothes dirty," says Jennifer Stafford.
"Understand there will be long days ahead but at the end when you reflect, know you made a difference. Smile and do it again the next day."