CrossFit, the widely known fitness platform and brand with thousands of affiliated gyms, is moving into primary care with the launch of its newest service, CrossFit Precision Care.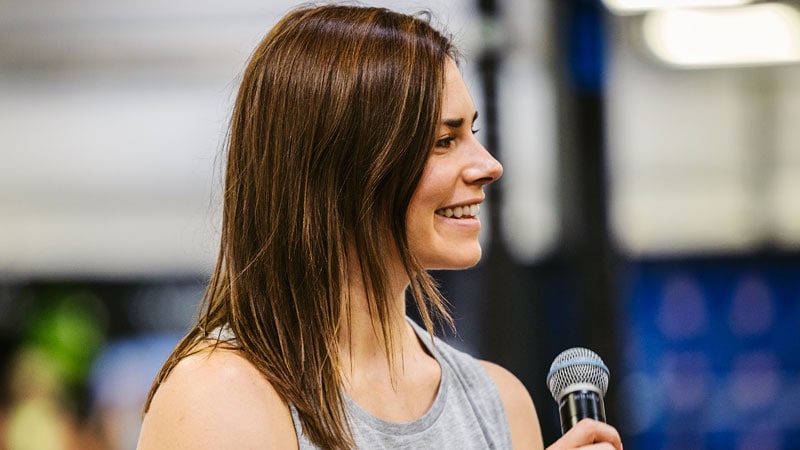 Developed by family medicine physician Julie Foucher, MD, and other CrossFit-trained doctors, the new service aims to help CrossFit members build plans to protect and improve their health, according to a statement by the company.
CrossFit Precision Care plans to meet this goal through utilizing doctors who understand the CrossFit philosophy, individualized care, data-driven recommendations, proactive lifestyle changes, and continual health optimization. Informing these plans and changes are CrossFit Precision Care's analysis through a few different methods.
CrossFit's partner in the endeavor, Wild Health, will provide genomic testing to determine a patient's genetic predispositions to help optimize the health plans. Blood testing reveals many things that may affect a person's health, such as hormone status, lipid levels, thyroid function, and cardiovascular risks. An overall lifestyle review includes exercise routines, eating habits, social life, and other patterns or behaviors.
Connecting With Doctors Who Understand CrossFit
Foucher is no stranger to CrossFit. She has competed in the CrossFit Games four times and discusses the sport regularly on Twitter and Instagram. Now, she works directly with CrossFit to help it provide users with individualized data-driven plans.
"I met Eric Roza last July," Foucher says of CrossFit's CEO. "We talked and saw a lot of potential for CrossFit and healthcare providers to work together, so we started brainstorming."
When Foucher and Roza got to know Wild Health, specifically, two of its physician cofounders, it was a natural fit, she said. Foucher says that many who train in CrossFit or go to CrossFit-affiliated gyms feel a disconnect with their family doctors: "[CrossFit is] a pretty polarizing topic, but there are also a lot of doctors who know that people are having health improvements with these programs," she said.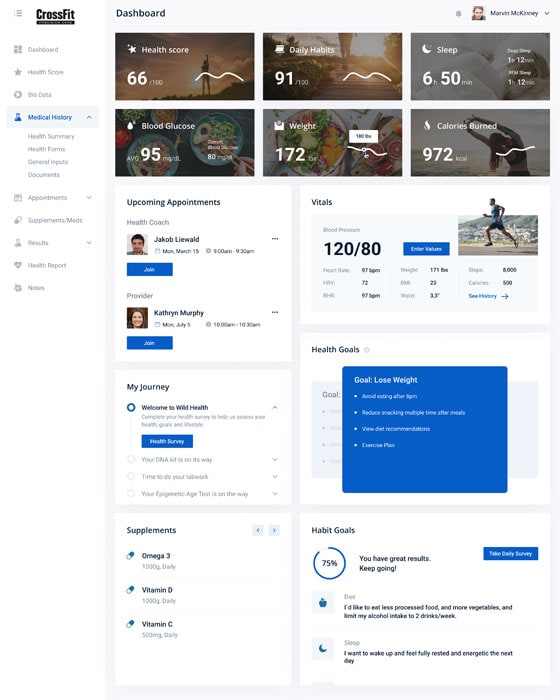 CrossFit Precision Care patients will get individual data results and recommendations based on their fitness.
Through use of Wild Health's precision services and algorithms, CrossFit Precision Care plans to connect its users with CrossFit-trained healthcare practitioners. This personalized approach allows healthcare practitioners to build closer relationships with users of the program, who may feel more comfortable working with doctors who understand their lifestyle. Wild Health's precision medicine approach, with trackable data such as biomaker status and risk scores, gives doctors a more complete picture of a patient's needs and history, according to a statement on the partnership.
A Better Use of Data
"To me," Foucher says of family medicine, "that was the best option coming out of residency. It was consistent with my morals." She says much of the current healthcare system is algorithm based. If a patient is experiencing certain symptoms, treatment is recommended on the basis of whatever yields the best results from the data — but this doesn't always factor in a patient's full history and genetics. It can be difficult for doctors to build trusting and personal relationships with patients. "In our current system, there's not a lot of time or great tools to do that," she says.
With the approach Wild Health and CrossFit Precision Care both use, however, Foucher says she sees a huge opportunity for optimizing patient and healthcare practitioner relationships.
"I see huge potential here, and I really think that this should be the standard for primary care going forwards," Foucher explains. "The nice thing about [this approach] is that it has a really quick learning curve and is relatively easy to implement with patients. Before Wild Health optimized it, the tech and data would take about 10 hours per patient to put together. But now, we can incorporate things that work with wearable tech and track results over time and allow the patient and doctor to use this platform to create relationships. And this is something that can scale to many more patients."
According to its website, CrossFit Precision Care is currently launching an invite-only beta test version of the program in eight states ahead of an expected national release.
For more news, follow Medscape on Facebook, Twitter, Instagram, and YouTube.