Basic chicken and rice gets a major upgrade with this Buffalo Chicken and Rice Casserole! Cream cheese and buffalo wing sauce add a ton of flavor to the tender chicken and savory rice in this crowd-pleasing casserole, topped with blue cheese and sliced green onion.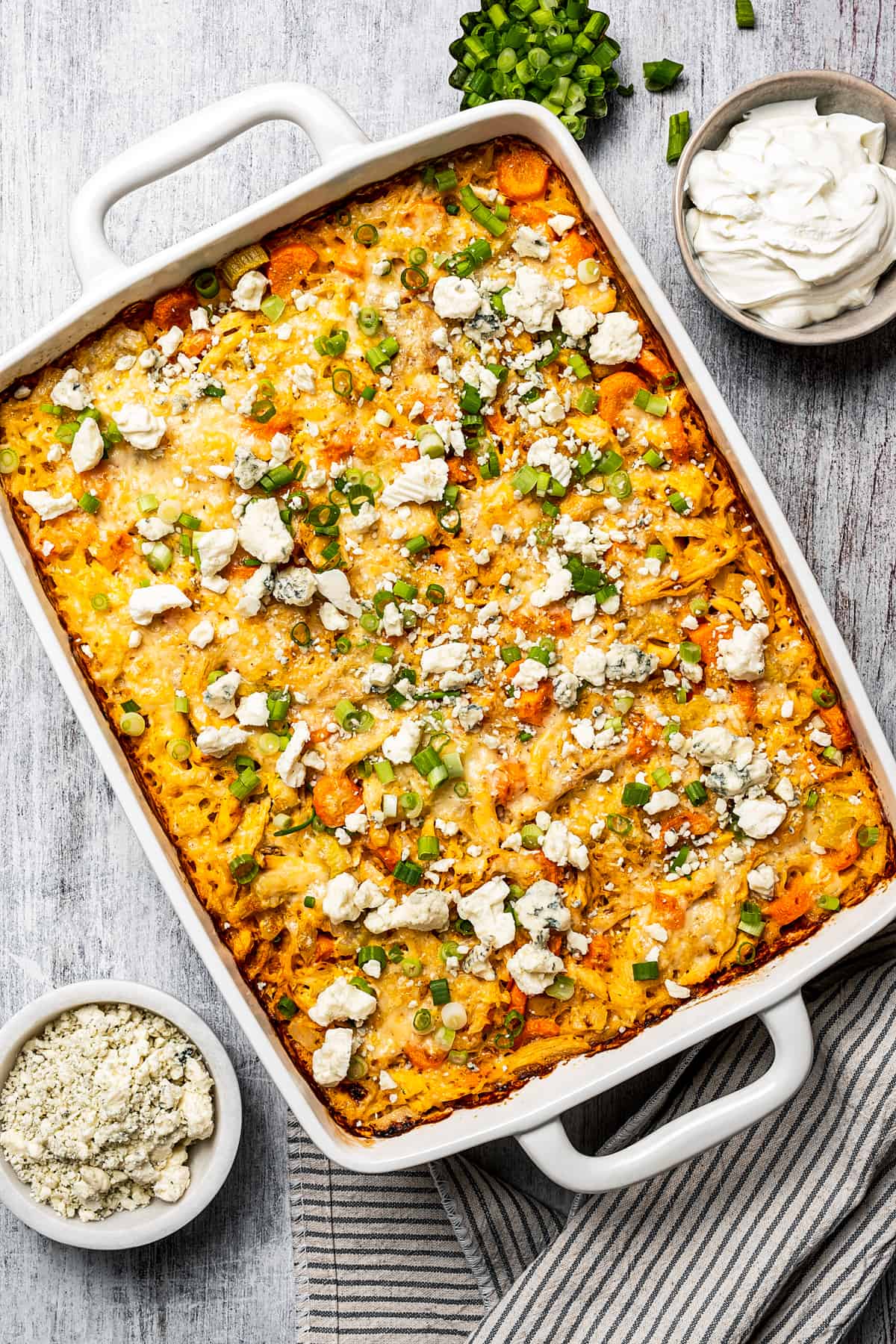 Chicken and Rice Casserole Never Tasted So Good!
Okay, so I love plain chicken and rice, without any bells and whistles. There's nothing like a big helping of buttery rice cooked in the broth of a whole chicken, with tender bites of shredded chicken mixed in. Comfort food? Definitely.
But, sometimes you just need to spice things up, and when a craving for spicy food hits, there's nothing better than buffalo chicken.
This recipe combines the best of both worlds. Simple shredded chicken meets toasted, rice, and both are combined with cream cheese and spicy buffalo wing sauce. This is a delicious weeknight meal that tastes like your favorite appetizer, but packs in more nourishment, and less mess. Crumbles of blue cheese, sliced green onion, and cool sour cream top things off to perfection.
Why Is It Called Buffalo Chicken?
Buffalo chicken is named after the city of Buffalo, New York, where the first buffalo wings originated. Coated in a spicy hot sauce with butter and Worcestershire, ordinary old chicken wings were transformed into something spectacular, and have become an American favorite.
These days, all kinds of dishes are made with a "buffalo" twist: Crispy Air Fryer Buffalo Shrimp, Shredded Buffalo Chicken Tacos, and party-friendly Buffalo Chicken Dip, just for starters!
What You'll Need
So what exactly is in this easy buffalo chicken and rice casserole? Let's take a look at the list of ingredients. (For the full recipe card with amounts, instructions, and nutrition facts, just scroll on down to the bottom of this post.)
Olive Oil: For sauteing. You can use any neutral oil you like.
Onion, Carrots, and Celery: Dice up these veggies. They'll give the rice a boost of flavor and nutrition.
Garlic: Mince or press a few cloves of fresh garlic.
Salt and Pepper
Rice: White long-grain rice is the star of this dish! Make sure not to use another type of rice or the liquid ratio and time may not work.
Cream Cheese: Soften the cream cheese before adding it to the casserole, that way, it will be easy to stir in without working through lumps.
Broth: Low-sodium chicken broth is my go-to, but you could also use homemade broth, vegetable broth, or regular chicken broth.
Chicken: You will need shredded, cooked chicken to make this dish, not raw chicken.
Buffalo Sauce: I use Frank's Red Hot Sauce brand. Make sure to get buffalo wing sauce, not just hot sauce. Buffalo sauce is milder and has a lighter color than plain hot sauce.
Cheese: This casserole is topped with shredded white cheddar cheese. Regular orange cheddar is fine, too.
Toppings: Sliced green onions, blue cheese crumbles, and sour cream take this dish to another level.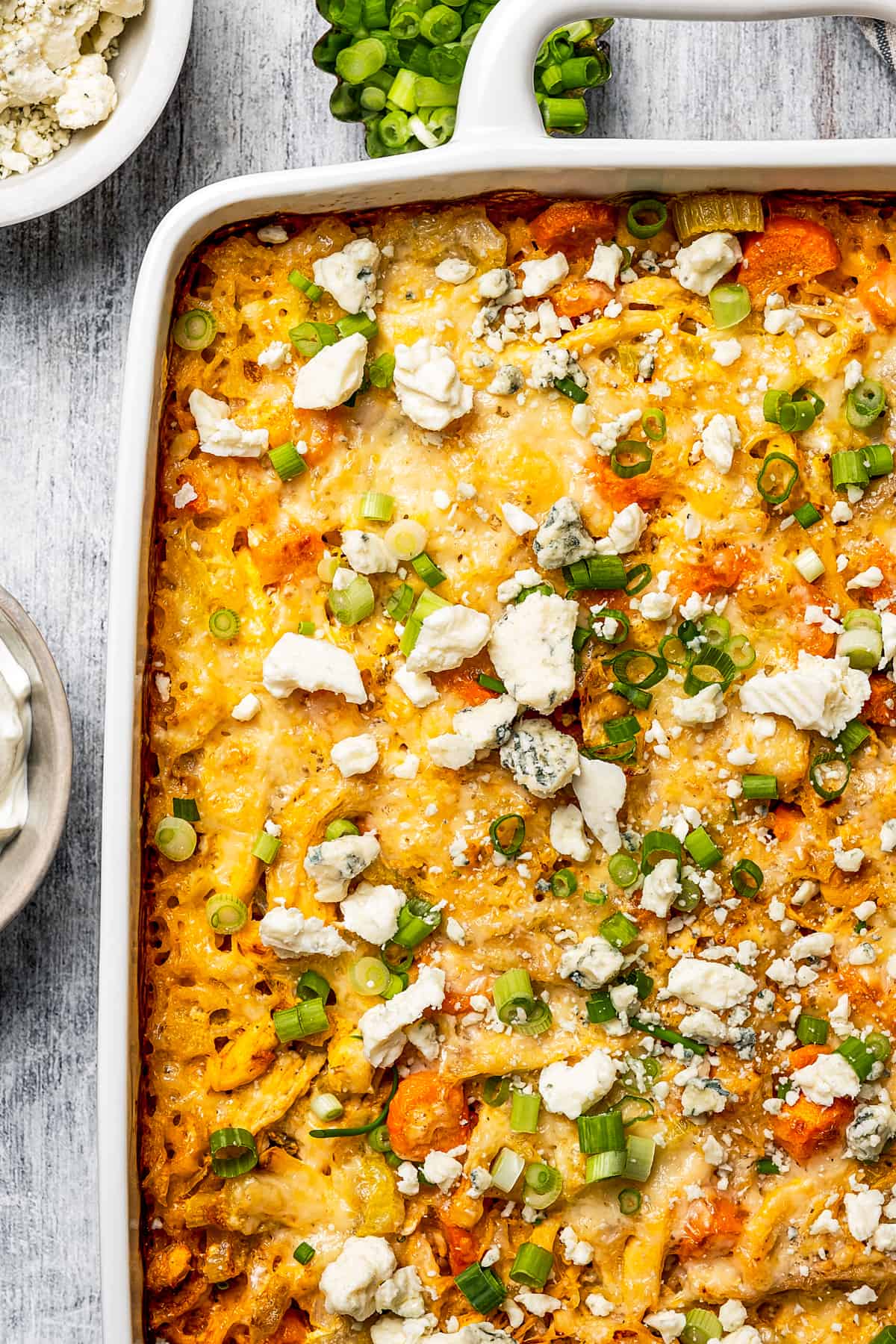 Let's Make Buffalo Chicken and Rice Casserole
To assemble this buffalo chicken and rice casserole, you'll start with a quick sauté on the stovetop, and then finish it off in the oven. Here are the steps:
Saute the Veggies and the Rice. First, get your oven preheating to 400˚F. Next, heat up the oil over medium heat, and sauté the onions, carrots, and celery until they have softened. Stir in the garlic, sprinkle in some salt and pepper, and then add the rice. Stir and cook for a couple of minutes to toast the rice a bit.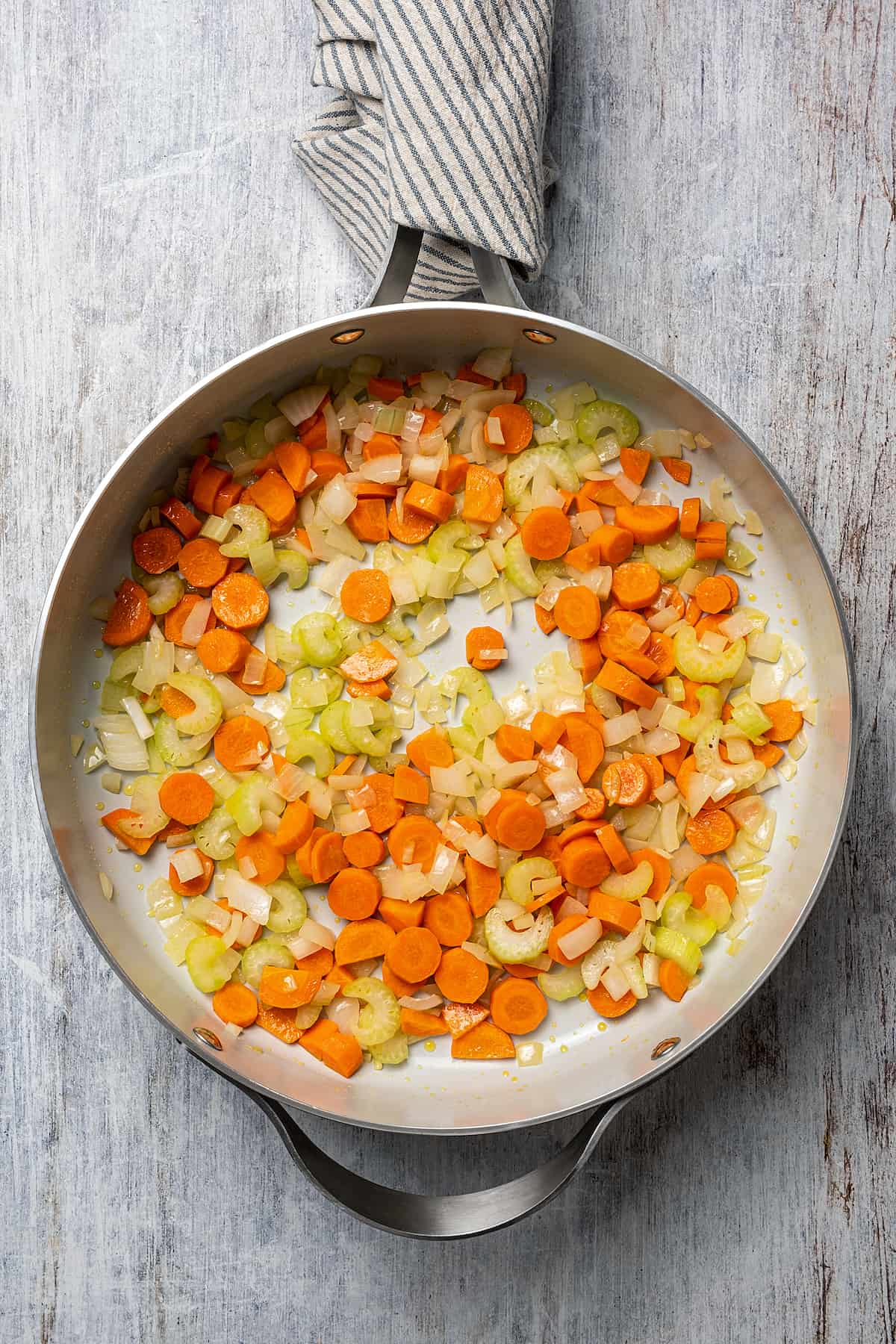 Combine the Ingredients in a Baking Dish. Next, spoon the rice mixture into a large (9×13) baking dish. Stir the cream cheese into the hot rice, and then stir in the chicken broth, buffalo sauce, and shredded chicken. 
Bake. Cover the baking dish with foil, and place it in the preheated oven to bake for about 40 minutes, or until the rice is tender.
Top with Cheese. Once the rice is cooked through, remove the foil, and give the casserole another stir. Sprinkle the cheddar cheese evenly over the top and bake it for about 10 more minutes, or until the cheese is melted.
Enjoy! Let the casserole stand for 10 minutes before topping it with green onions, bleu cheese crumbles, and sour cream. Serve warm.
Do You Have to Cook Rice Before Putting it in a Casserole?
For some recipes, you do need to cook the rice before you add it to a casserole. Other recipes have you use special par-cooked rice such as instant rice. This one is simple – just use plain, long-grain white rice, and don't worry about cooking it beforehand. Easy peasy!
Helpful Recipe Hints
As you can see, this chicken and rice casserole is super easy to pull together, and it's mostly hands-off. These helpful tips will make it even easier!
Minimize the Prep: If you want to cut down on your prep time even more, go for pre-chopped veggies from the produce section instead of peeling and chopping your own.
Chicken Options: Go for leftover shredded chicken, or make a fresh batch with my easy tutorial on How to Boil Chicken Breasts. Or, for maximum convenience, grab a rotisserie chicken and shred the meat – it only takes a minute or two.
Cheese Options: There are a lot of cheeses going on here, and all of them can be swapped as needed. For instance, you can use full-fat or low-fat cream cheese – either one will work. But the full-fat cream cheese will give the dish a slightly better taste and texture. For the melted cheese on top, go with your favorite melting cheese, like cheddar, Colby, or Monterey jack. And, when it comes to the blue cheese crumbles? Add them on, leave them out, or serve them on the side so everyone can customize their serving!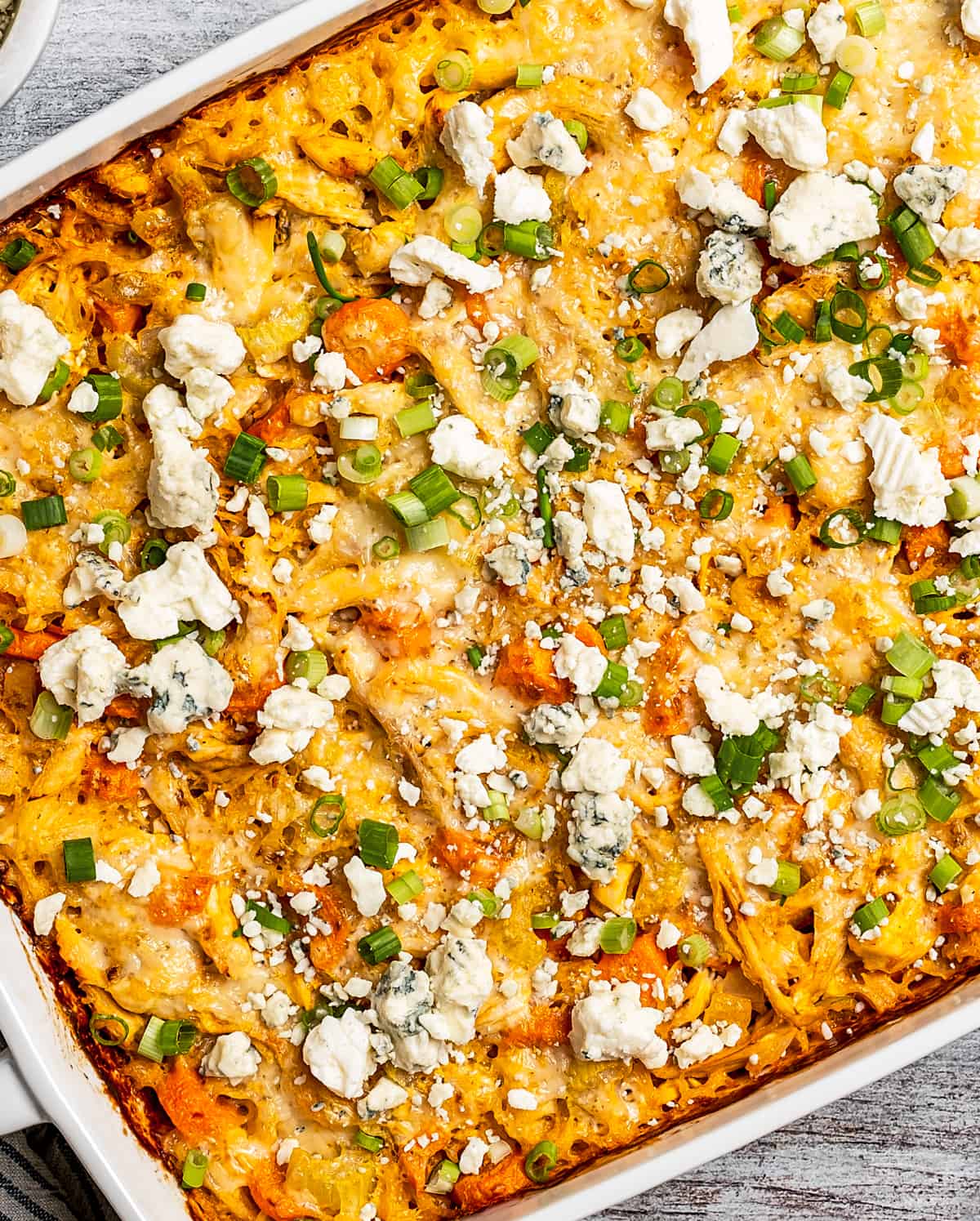 Serving Suggestions
What can you serve with buffalo chicken and rice casserole? All kinds of things! Almost any fresh veggie side will work, or you could just go with a crudite platter. Here are some side dishes we love:
Corn: Aside from buffalo chicken recipes, we also love fresh corn! This easy, buttery Air Fryer Corn on the Cob will bring smiles to your table, guaranteed.
Salad: Carrot and celery sticks are a classic, but a nice salad can also fill the bill for a cool, crunchy side. Bored of your typical garden salad? Try this Cabbage Cucumber Salad instead! It's super crunchy and features an uber-flavorful homemade vinaigrette.
Roasted Veggies: Making a whole sheet pan of roasted veggies is so easy – and you don't have to limit yourself to potatoes and carrots! Vibrant, tender vegetables are a great option as well. Try this recipe for Roasted Green Beans with Squash and Tomatoes, and I think you'll agree.
Storing and Reheating
Storing this chicken and rice casserole is super easy. Just cover it well (plastic wrap or foil works great) and stick it in your refrigerator. It should keep for about four days.
Reheating is easy, too. Just place the desired amount in the microwave, and heat it in bursts of about 30 seconds, stirring after each burst. You can also heat it in a covered skillet over low heat. If the casserole seems dry, you can add a tiny bit of milk to moisten it as it heats.
Can I Freeze This Casserole?
Sure can! Just cool the casserole down – I recommend doing this on the counter for about one hour, and then in your fridge for couple more hours.
After that, wrap the casserole tightly in a couple of layers of plastic wrap, or place the leftovers in freezer containers or bags. Store in your freezer for up to 3 months.
Thaw in your fridge overnight before reheating and serving.
ENJOY!
2

tablespoons

olive oil

1

small

yellow onion,

diced

2

medium

carrots,

diced or thinly sliced

1

stalk

celery,

diced or thinly sliced

4

cloves

garlic,

minced

salt and freshly ground black pepper,

to taste

1½

cups

white long grain rice

1

package (8 ounces)

cream cheese,

softened

3

cups

low-sodium chicken broth

1

pound

shredded cooked chicken

¾

cups

Buffalo sauce,

I use Frank's Red Hot Sauce

1½

cups

shredded white cheddar cheese

sliced green onions,

blue cheese crumbles, and sour cream, for serving
Preheat oven to 400˚F.

Heat olive oil in a skillet set over medium heat.

Add onions, carrots, and celery and cook for 6 to 8 minutes, or until softened. Stir frequently.

Stir in the garlic and cook for 20 seconds. Season with salt and pepper.

Add rice and cook for about 1 to 2 minutes, or until slightly toasted. Stirring frequently.

Transfer the rice mixture to a lightly greased 9×13 baking dish.

Stir in the cream cheese until well incorporated.

To the baking dish, add the chicken broth, shredded chicken, and buffalo sauce; stir to combine.

Cover with aluminum foil and bake for 40 minutes, or until rice is tender.

Remove foil and stir the casserole.

Top with the cheddar cheese and continue to bake, uncovered, for about 10 more minutes, or until the cheese is melted.

Remove from oven and let stand 10 minutes.

Top with green onions, bleu cheese crumbles, and sour cream.

Serve.
Rice: Make sure to use long grain white rice; not minute rice or brown rice because, the cooking time and liquid ratio will not work for those two.
Chicken: I usually use rotisserie chicken for this casserole, but you can definitely use leftover chicken breasts or even chicken thighs. Just shred them or dice them small before using.
Buffalo Sauce:  I use the Frank's Red Hot Sauce brand. I suggest to use buffalo wing sauce, not plain hot sauce, because buffalo sauce is milder, tangier, and has a lighter color than hot sauce.
Calories: 370 kcal | Carbohydrates: 34 g | Protein: 11 g | Fat: 21 g | Saturated Fat: 11 g | Polyunsaturated Fat: 1 g | Monounsaturated Fat: 7 g | Cholesterol: 50 mg | Sodium: 961 mg | Potassium: 250 mg | Fiber: 1 g | Sugar: 2 g | Vitamin A: 3163 IU | Vitamin C: 2 mg | Calcium: 202 mg | Iron: 1 mg | Net Carbs: 33 g
Nutritional info is an estimate and provided as courtesy. Values may vary according to the ingredients and tools used. Please use your preferred nutritional calculator for more detailed info.
More Flavorful Chicken Recipes